Changing the Way We Serve the Community
Cityteam is a non-profit organization assisting with the needs of people struggling with poverty, homelessness and addiction. We have submitted our work with Cityteam to the ILookUp Film Challenge.
Public voting is open now - Array plans to contribute our cash award to Cityteam in support of their on-going efforts.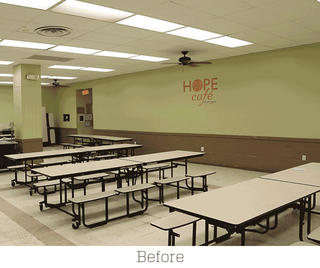 Array's Philadelphia office was introduced to Cityteam as 20 staff and family members convened to serve dinner to those in need at Hope Café – where the goal is to serve their "guests as if they were dining at a five-star restaurant." Already in the business of creating beautiful healing environments, Array's designers couldn't help but notice that the physical environment did not instill the sense of hope one might wish for.
Working with Cityteam, we created a work plan to improve their space for those they serve. When complete, Cityteam will not only have a new beautiful home for its Hope Café, but will also have a new front entry for volunteers and residents, space for the volunteers, a new entry and vestibule for the guests, and a refresh to its food pantry.